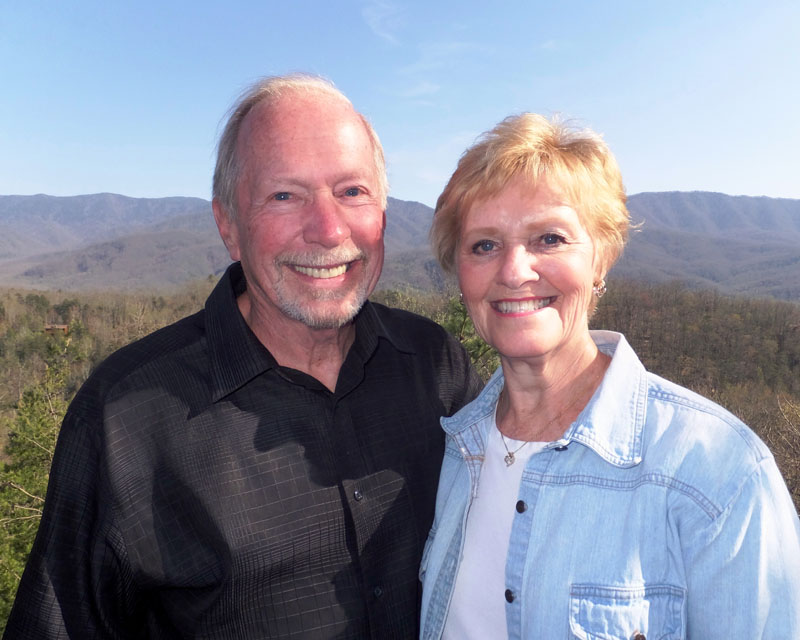 Pat and Fred Enders
When you have the opportunity to wake up in the morning and experience the sun coming up from behind the mountains in the east and look forward to seeing the evening sun setting behind the mountains to your west, Fred knew he wanted that to be a permanent part in his life.
We had vacationed in the Great Smoky Mountains for over 30 years and enjoyed coming at least once, maybe twice a year, to relax, capture the views, play a little golf and always walk the town of "Gatlinburg". We had our favorite restaurants to come back to and shops for our little treasures and collectibles. Each trip became harder to leave, so finally we decided this was the time to invest in our very own rental and become owners in the Great Smoky Mountains.
It took several trips to find just the right place for us. We wanted a cabin/chalet that guests would feel comfortable in and would want to return for future years to experience holidays, family vacations and special get-aways. We also know how important the family dog is and made the decision to make our rental "Pet Friendly". It was so hard for us to find a nice pet friendly rental. We are dog lovers and have always had German Shepherds so Darby our #3, feels right at home traveling with us.
We knew the" Sugar Shack Chalet", formally Sugar Tree, was the perfect chalet as soon as we walked out on the deck. You see, Fred had three requests; log, a stone fireplace and a great view. Well two out of three ain't bad! The view from our deck is a panoramic scene of the National Forest and it is breath taking. He knew he could have that morning and evening sun now too. Oh, and one more plus was it was located in the Village of Cobbly Nob, where we had returned over and over for golf, swimming and relaxing. A private neighborhood with well maintained roads and only a few miles from Gatlinburg.
"Deal done" and the rest is history. We have been updating, maintaining and managing the Sugar Shack Chalet with the guidance and help of ivacationonline reservation software. We have been very successful keeping our rental calendar full and love personally sharing the amenities of Sugar Shack when we receive questions or an inquiry. Who better can tell guests about our chalet and give them information about all of the attraction and fun places to visit.
But at the end of the day…anyone staying at the Sugar Shack Chalet can look forward to a comfortable and clean place to relax, with your best friend by your side, gazing at those tremendous views and a fabulous stars show at night. It's just the perfect place to enjoy nature at its best!